Inspiration and interiors
Furnishing is a form of art. It often happens, that with the purchase of a flat or in the face of the renovation of a house, we only learn it. Some have a natural ability to search for beautiful things and connect them together in a coherent whole. Although the experiences of each of us are different, let us not hide - we like to inspire and draw from what has already been done. On our blog you will find a lot of information about what to look for during interior design and how to easily choose furniture, their style and color to the type of room. We will gladly show you ready-made projects straight from the homes of our clients. In the end, we know about furniture and upholstery fabrics, and each project is a challenge for us. We furnish all the time, can we say that we "do" art?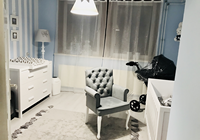 Create a cozy, harmonious interior for your baby. Take care of its safe growth and comfort for the nursing mother. Choose furniture perfect to welcome a new family member.
Read more