2019-12-06
Day of Free Delivery 2019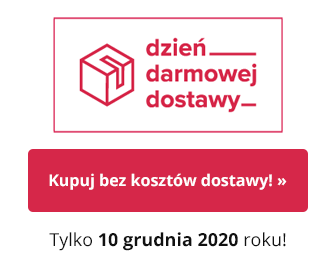 Day of Free Delivery on Tuesday 10 December 2019, which is why all our customers are guaranteed free shipping orders, regardless of its value, method of payment and the chosen method of delivery.

For the eighth time in the history of Polish online stores will be Day of Free Delivery. We also participate in this action, organized by service eKomercyjnie. Each order placed in our store on 10 December 2019 will be sent to you absolutely free* - regardless of the value of the basket, the selected method of payment and the method of transportation. For purchase over 1000 zł you will receive Christmas pillows as a gift. For larger orders, we will require advance payment.

At the same time we remind you that orders submitted after 18 November 2019 will be made in the New Year.
If you have questions or doubts, please contact us at the phone number +48 500 690 691.

* - for the delivery to Polish addresses