Blog
Inspiration: "Interesting ideas for decorating the hallway"

Arranging the lobby is a real challenge, so to fully use the available space and the decorative possibilities of the hall, be sure to prepare a design and choose the right furniture from our offer.
Read more
"How to choose bar stools for the kitchen - inspirations and interiors"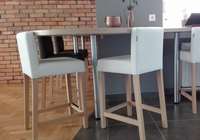 What makes bar stools irreplaceable in the kitchen? What are the most important advantages and how to choose the height of the countertop - the answers to these questions can be found in our article.
Read more